Extreme Pro Camera Hunter
Product Code:

Pro Cam Hunt

Availability:

In Stock

VAT Included

Delivery just £6 or FREE for orders over £100
1.2 ghz -2.4 ghz -5.8 ghz full band video scanner!
DELIVERY IS APPROX 10 DAYS FROM ORDER RECEIVED



This new breakthrough video scanner covers 3 frequency bands :1.2 ghz-2.4 ghz -5.8 ghz .the unique 5.8 ghz scanning technology makes this device the only one of its kind.

This detector detects and display multiple hidden wireless cameras in multiple frequency bands up to 300 ft (depending the out put powers of source transmitter ).It scans 1.2 ghz ,2.4 ghz,and 5.8 ghz three frequency bands synchronously within 3 seconds.

This indicator gas indications on NTSC or PAL/SECAM to identify the video system of detected signal. The scan button can latch or relaese the image. The speaker will display the voice if there is audio signal with the wireless camera signal. The 3 frequency bands have their own Stop/Scan button and video system indicator.

This detector has 3 AV outputs for recording the video and audio of the 3 Frequency bands at the same time.

This is the most advanced hidden wireless camea hunter you are looking for. Specially designed for easy and simple use .which does not require complicated installation or any professional knowledge.
Features:
Unique 5.8 ghz scanning technology
3.5" High resolution LCD Monitor ,Color or B/W camera compatible
Video protocol auto-switching for NTSC,PAL/SECAM
NTSC or PAL / SECAM Video format indication x 3 for 3 frequency bands.
3 frequency bands auto scanning
"Fine Tunning" swithches for mending screen image
Scanning LED indication x 3 for 3 frequency bands synchronous scanning
3.5 mm Video /Audio output jack x 3 for 3 bands synchronus recording


Specifications:
Dimension :L 19 x H 14 x T 4 CM (antenna length not included)
wieight : about 860 grams (+- 2 pounds)
Power : 1)Switching power adapter
2) Built in rechargable batterry (40 minutes of usage after full charge
Monitor : 3.5" high Resolution LCD ,Color or B/W camera
Scan indication :1 NTSC or PAL /SECAM Video format indication
Scan indication :2 Scanning LED / Indicator x 3 for 3 frequency bands
warning Mode : 1 acoustic display
2 Silent detection trough earphone
Sanning band :1.2 Ghz -2.4 Ghz - 5.8 Ghz three bands synchronous scanning
Monitor Display: 1 Auto band switching
2 Band selection for manual change
Audio/Video output: AV outputs x 3 3 for 3 bands synchronous recording with 3.5 mm Video /audio output jack x 3 (for recordig)
Detecting Distance : up to 300 ft (depending on output power source of transmitter


.
VS-125 cannot detect Digital WiFi IP cameras.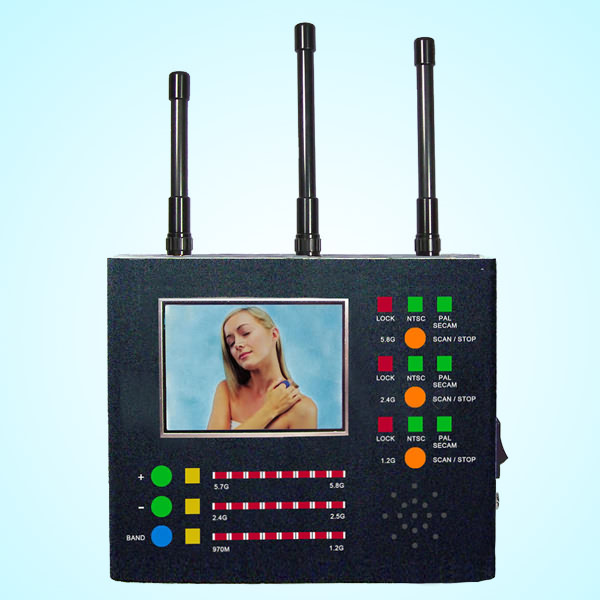 Related Products