SHADOW 1500
Product Code:

Shad1500

Availability:

In Stock

VAT Included

Delivery just £6 or FREE for orders over £100
Shadow 1500 Tracker
This unit is ideal for long term deployement due to long battery life

£495 inc VAT
You can run this tracker like all our trackers every 10 seconds every day for 1 full year at no extra cost.
The SHAD0W 1500 is a GPS device that can be magnetically placed on any asset that has a metal surface.
Boasting wireless charging allows the device to be 100% waterproof and robust.
The magnets have a "Pull off" force of around 65kg so it is extremely strong when placed on a metal surface.
The large GPS antenna gives excellent performance.
The device will store up to 10k positions on its internal memory. This is imperative when the GPRS network is unavailable.
It will also store 10000 positions on its internal memory so that when the GSM network is not available, the device will store the positions and send them to our server when GSM becomes available.
It is able to send a health position every 4 hours when not moving.
Comes with unlimited tracking positions for a year and also 75 SMS credits per month. SMS credits are used to send commands to the tracker such as to increase or decrease the fequency of position updates.

After 3 months of inactivity, the SIM card will be deactivated.
No contract.
Wireless charging (Charging mat included!).
View tracking in real time on PC, Mobile Phone, IPad, Laptop etc.
Strong 70 KG rare Earth Magnets for attachment for Mag mounting underneath Vehicles.
Complete with Wireless Charging mat.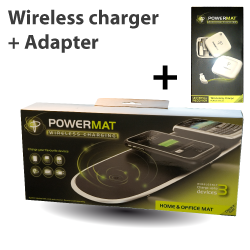 WIRELESS CHARGING MAT INCLUDED
Related Products