Smoke Detector wireless IP camera
Product Code:

Wi-Fi smoke

Availability:

In Stock

VAT Included

Delivery just £6 or FREE for orders over £100
Ceiling Mounted Smoke Detector complete with wireless IP camera
This ceiling mounted smoke detector has an in-built completely covert internet based covert / Hidden Camera which offers absolutely superb Video and Audio quality.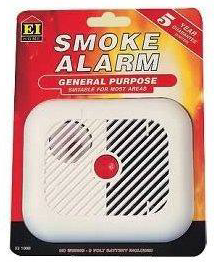 SMOKE ALARM WIFI CAMERA DVR

The smoke alarm has has a pinhole lens wifi camera that is easy to set up and use
with added feature of covert infra red leds fitted inside the grill to help camera see in
low light and this feature can be turned on or off by a simple switch inside.
The camera will also make cyclic recordings of approx 30 mins per file on the sd card
with time and date so you will never miss anything. You can view live video, up to 4 cameras on computer,
or as many cameras as you want on iphone or android phone by downloading the free apps
. The camera works from a mains supply for long term but as optional extra
we also supply a battery holder that will fit inside smoke alarm so you can use
rechargeable batteries for quick deployment or if power is not available.
There is also another supplied larger battery holder available for above a false ceiling if power is not available.
Using AA battery holder with 2300ma rechargeable batteries will last about 9 hours
and using the larger C battery holder 14 hours with 3500 ma
or 18 hours with 4500ma rechargeable batteries.
Supplied complete with mains power supply, 2gb micro sd card (for the camera with operating guide
, wifi tools, client software) on the sd card, card reader.
Below is the key features:

>Monitoring by cell phone, computer or tablet anytime anywhere
>Remote surveillance by WIFI
>User password
>Point to point surveillance without WIFI
>Record video in SD memory (2gb sd card will loop record 8 hours) (Max. 32GB)
>Download software at Iphone APP Store
>Watch up to 4 camera on PC software
>Video format: AVI
>Video resolution: QVGA (352x288)
>Easiest camera to set up and use
>Pinhole lens to ensure total covert operation
>Covert infra red leds's switchable on or off
>Optional battery holder that fits inside the smoke alarm or larger battery holder for above ceiling
Related Products