Electric Pick Gun PLUS
Product Code:

elec-pick-gun-plus

Availability:

In Stock

VAT Included

Delivery just £6 or FREE for orders over £100
Electric Pick Gun PLUS
This is THE NEWEST VERSION of this electric pick gun, complete with a two chucks, a selection of pick gun needles, Allen-key and UK charger (adapter required, poundshop jobbie!). It comes in the new tough black case with green trim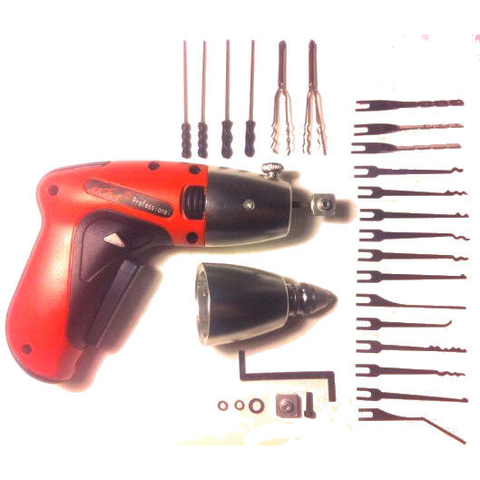 NOTE: KLOM needles are notoriously weak and special attention must be paid when using this unit not to break them. Beginners are advised to purchase some Brockhage replacement needles which are MUCH stronger.
Before you start picking, ensure your EPG is fully charged. You'll require an adaptor for UK plugs, but once the charge is plugged into the gun and the mains a red light will appear on the charger. The red light will turn green once the unit is fully charged, which can take up to 5 hours but frequently charges sooner.
Make sure the U-Clamp is attached to the swing arm that sticks out from the chuck. This is where the pick gun needlesare attached to the gun. Pick Gun needles are like normal lock picking, you'll want to trial and error with different locks. You'll soon find your favourites and work out which ones work better with different locks. This is purely personal and something you'll learn as you continue using the KLOM EPG.
WARNING: The needles that come with the KLOM are very delicate. We advise beginners to get some Brockhage pick gun needles which are incredibly strong and will take a lot more heavy handed use. We sell a variety of sets at great prices.

Related Products