Pick Gun
Product Code:

Pick Gun

Availability:

In Stock

VAT Included

Delivery just £6 or FREE for orders over £100
The pick gun is very easy to use.

All you have yo do is place the tension bar in to the lock and applying light presser and then at the same time place the gun in the lock and fire away until the lock turns.
If you're not familiar with the principle of the pick-gun, like most good non-destructive entry techniques, it's fiendishly simple. A needle protrusion from the front of the 'gun' snaps in an upward motion when the trigger is pulled. Like bumping, this force causes the pins to bounce upwards off the needle causing them to occasionally clear the shearline. With a simple tension tool (supplied) held in the lock, and a gentle 'turning pressure' applied, this 'clearing the shearline' allows the plug to turn and the lock to open.

Comes complete with instruction booklet.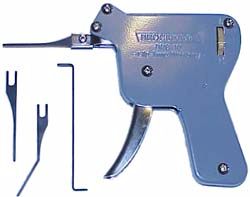 Related Products