Clock / Thermometer Covert Video
Product Code:

DV- TCV UNIT

Availability:

In Stock

VAT Included

Delivery just £6 or FREE for orders over £100
Thermometer and Clock Covert Video System From The Spy Shop
Have It Your Way! Now You Can Either Stick Covert Video On A Wall Or Set It On A Desk!
Wafer Thin -You Can Now Just Stick-It Anywhere There Is a Wall Or Set-It In It's Stand Any where ie Table, Desk, Mantel Or Counter!
The Bulk In Stationary Covert Video Is Over!
Hide It In Your Pocket When You Carry It In To Place-it In 30 Seconds Or Less!
Completely Self-Contained! Motion Activation/Time/Date Stamping!
Built In DVR Records To Micro SC Card! up to 32 Gb in HIGH DEFINITION
ALSO INCLUDES AUDIO RECORDING
Unit Has Displayed Time/Date/Day/ Weather Forecast/ Temperature!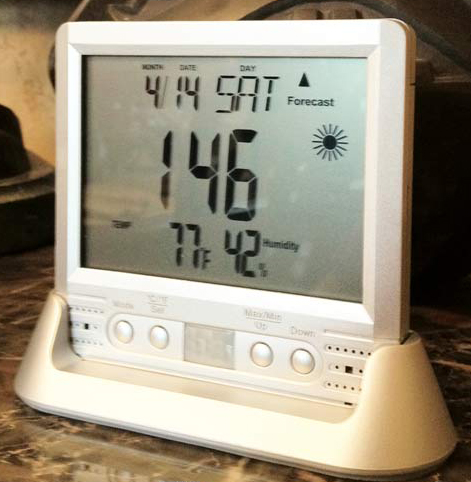 Features
• High Resolution
• Time/Date Stamping
• Motion Activation
• High Resolution
• Low Lux Rating
• Storage: Micro SC Card
• Power Supply: Standard Mobile Phone Type Battery
• Set to Take Video Or Still Photos
includes Audio recording
Specifications
• Camera: 2 MP CMOS
• Resolution: 640 X 480 @ 30fps/ 1280 X 720 @ 30fps
• Min Illumination: 1.3 Ix
• Lens 0.6 mm
• Memory: Micro SD, Supports Up To 32 G SDHC
• Time/Date Stamping YYYY.MM.DD - HH:MM:SS
• Video File Format: AVI
• Photo File Format: M-JPEG
• Battery Capacity: 950mA
• Charging Time: 3 Hours
• Working Hours: VGA: 260min. /HD: 320min (approx.)
• Standby Hours:Up To 5 Days (approx.)
• Operation Mode: PIR Trigger Record/ PIR Trigger Photo
• Power Cord And Plug
• CD
• 4 GB Micro SD Card Memory
BATTERY POWER ONLY
Related Products