Smoke Detect Cam DVR
Product Code:

Spy Smoke D

Availability:

In Stock

VAT Included

Delivery just £6 or FREE for orders over £100
Smoke Detector Camera DVR Sony CCD Low Light 420TVL SD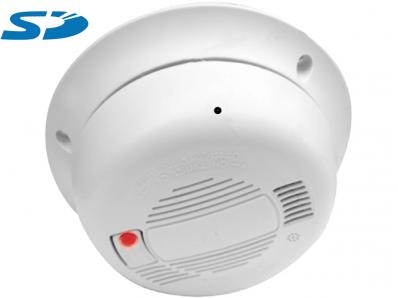 Sony CCD Camera and DVR hidden in a smoke detector.
Low LUX 3.7mm Colour Pinhole Camera with audio.
Automatically record when motion is detected.
Flexible - Wire to a DVR, TV, DVD Recorder etc.
Can record to an SD Card up to 32GB in Capacity.
Remote Control for DVR and Camera configuration.
Features
Inconspicuous Design - Low LUX Colour Pinhole Camera and Digital Video Recorder DVR hidden in a smoke detector fire alarm. This means the unit won't look out of place in your office or home.
Working Smoke detector and fire alarm - This is more than just a Hidden Camera Recorder. It is also a fully functional smoke detector and fire alarm system.
Sony CCD Pinhole Camera - The Colour Pinhole Camera hidden in this smoke detector uses a High Quality 1/4" Sony CCD Imaging Sensor that has a resolution of 420 TV Lines. This means you get crisp, clear videos.
Wide Angle Lens - The Sony CCD Camera in this setup is fitted with a 3.7mm lens giving you a 90 degree filed of view (FOV). This means this Hidden Camera can be placed in the top corner of a room for a perfect corner-to-corner view of an entire room.
Low LUX Camera Sensor - The Hidden Pinhole Camera in this unit sees in 0.1 LUX conditions meaning this Hidden DVR Camera System will capture clear footage even when light conditions are comparable to a 10th of a moonlight.
Integrated Microphone - This Covert DVR Camera has a sensitive microphone built in. This makes this unit perfect for private investigation or covert surveillance applications.

Motion detection

- smoke detector DVR can be set up to record when motion

is detected moving in front of the camera to save straight to SD Card. The detection can be tweaked by the use of "Zoning" feature where the camera's view is divided into a grid and certain grid "tiles" can be marked to not respond to trigger recording.
Easy operation - Use the included remote controller to operate and configure the Hidden Pinhole Camera and Digital Video Recorder DVR. Simply click a button to make the hidden DVR Camera start recording.
On-Screen-Display OSD - The DVR hidden in this smoke detector displays recording parameters, camera settings etc. by connecting the unit to a TV, making configuring the unit straight forward and easy.
Adjustable Quality DVR Recording - The Mini DVR records high quality 640x480 VGA resolution footage at 12 Frames-Per-Second (FPS) or 320x240 QVGA footage at 30FPS. This means you get fluid, crisp video. You can also tone down the quality should you need to record for longer periods.
Flexible Record Scheduling - This Mini DVR can be configured to record whenever it senses body heat or be instructed to record on certain days of the week at certain times to save on recording capacity.

High Quality Video Compression

- By plugging a 32GB SD Card into this Hidden

DVR Camera you can record up to a week of high quality, 640x480 resolution video at 12 FPS. This can be doubled by further tweaking the recording parameters.
Easy Footage Transfer - Footage is recorded to a Secure Digital SD Card in AVI format, meaning it can be played back on any computer platform eg: Windows, Mac, Linux etc.
Contents Of Package
1 x Smoke Detector hidden Sony CCD Camera DVR

1 x Remote Controller

1 x 12v Mains Power Adaptor

1 x User Manual

1 x Mounting Bracket and Screws for smoke detector Hidden Camera

1 x Battery for Remote Controller
Technical Specification
Imaging Device: 1/3 inch Sony CCD
Horizontal Resolution: 420 TVL
PAL Resolution: 500 x 582
NTSC Resolution: 512 x 492
Vertical Frequency: 2:1 Interlace
Min Illumination: 0.1 LUX
SD Card slot for upto 32Gb of storage
Synchronization: Internal
S/N Ratio: >48dB
Electronic Shutter: Up to 1/100.000 sec
White Balance: Auto
Lens: 3.7mm Cone Pinhole
Gamma: 0.45
Video Output: 1.0Vp-p 75 ohms
Power Supply: DC12V +/-10%
Power Consumption: 150mA
Weight: 300g
Storage Temperature: -30 to 60 degrees
Operating Temperature: -10 to 50 degrees
Related Products